Disclaimer and cancellation policy: This website is updated regularly. All information available on this website may be subject to change. Dates of the Nijmegen Earsurgery Course course may change, as well as the availability of live surgery, hands-on temporal bone dissection and live presentations. The organization of the Nijmegen Earsurgery Course  may not be held liable for changes in the course's program or cancellation of the course that occur as a result of public restrictions, lockdown, or other unforeseen calamities. In case of a complete cancellation by the organization, paid registration will be refunded for 100% in case this occurs prior to one month before the first day of the course. Cancellation by the participant for other reasons than mentioned above is possible before March 15. Paid registration will be refunded for 100%. Cancellations after March 15 will not be refunded.
You and your co-workers are cordially invited to participate in the 56th Nijmegen Ear Surgery Course which will be held from
April 17 – April 21, 2023.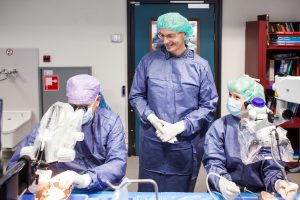 The Postgraduate Course (not accessible for residents) in Ear Surgery, held at the Radboud University Nijmegen Medical Centre, deals with the contemporary concepts of etiology and treatment of chronic ear disease and otosclerosis. Moreover Bone Anchored Hearing Aids, Middle Ear Implants and Cochlear Implants will be subjects of discussion and demonstration. The course, which is given in English, includes lectures, panel discussions, televised surgery and temporal bone dissections.
Guest Faculty include: Thomas Somers, Antwerp (Belgium),  Thomas Zahnert, Dresden (Germany), Per Caye Thomasen, Copenhagen (Denmark), Shakeel Saeed, London (UK) and  Mauricio Falcioni, Parma (Italy).
The Nijmegen Faculty include: Jef Mulder, Dirk Kunst, Ronald Pennings, Thijs Jansen, Froukje Cals.
Hope to see you in Nijmegen,
with kind regards,
Emmanuel Mylanus, Course Director