You and your co-workers are cordially invited to participate in the 55th Nijmegen Ear Surgery Course which will be held from
February 3 – February 7, 2020.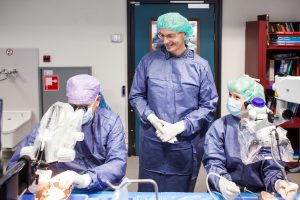 The Postgraduate Course in Ear Surgery, held at the Radboud University Nijmegen Medical Centre, deals with the contemporary concepts of etiology and treatment of chronic ear disease and otosclerosis. Moreover Bone Anchored Hearing Aids, Middle Ear Implants and Cochlear Implants will be subjects of discussion and demonstration. The course, which is given in English, includes lectures, panel discussions, televised surgery and temporal bone dissections.
Guest Faculty include: Thomas Somers, Antwerp (Belgium),  Thomas Zahnert, Dresden (Germany), Per Caye Thomasen, Copenhagen (Denmark), Shakeel Saeed, London (UK) and  Mauricio Falcioni, Parma (Italy).
The Nijmegen Faculty include: Emmanuel Mylanus, Dirk Kunst, Ronald Pennings, Myrthe Hol.
The 2020 Brinkman lecture will be given by Mr. Matthew Yung, consultant Otolaryngologist at the Ipswich Hospital NHS Trust and founder of the International Common Otology Database. The title of his lecture is Medial canal fibrosis – pathogenesis and treatment philosophy.
Hope to see you in Nijmegen,
with kind regards,
Jef Mulder, Course Director